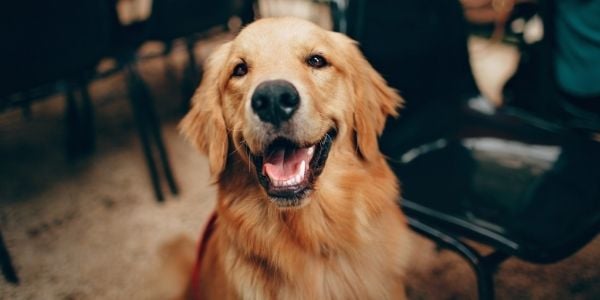 Is Your Dog a Food Gobbler?
Interactive Feeders May Just Be the Trick
Just like for us, eating food slowly and chewing it before swallowing it is better for our dog's health. Feeding your dog from an interactive feeder or toy, rather than a standard bowl, may be perfect for them.
Especially for dogs predisposed to "Bloat" (otherwise known as Gastric Dilatation and Volvulus, or GDV) eating more slowly is really important, as it may help to prevent GDV/Bloat, a condition that can be rapidly fatal. It's best to know the signs of bloat before it ever happens, as prompt recognition and action are crucial should it ever happen to your dog!
For high-energy dogs, interactive toys and puzzle feeders can also help to increase their mental stimulation and decrease their boredom, leading to a happier and more exhausted dog. This can be particularly great for those dogs that are prone to separation anxiety and other situations that predispose them to destructive behaviors.
There are lots of great options for interactive toys and puzzle feeders on the market. Here are a few of my favorites:
If you've ever played with Weebles (perhaps I'm dating myself here!), you can picture the Kong Wobbler. As your dog nuzzles it around, it drops pieces of kibble and then pops back up. Easy to use, sturdy, and dishwasher safe for keeping clean. I love the Wobbler! It comes in small and large; the small may be best for small dogs and puppies. (Note: only for use with dry food or treats, not effective with wet food.)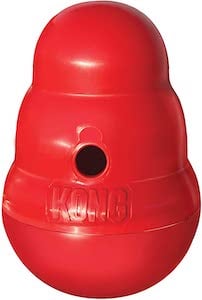 The Green Feeder is a great way to slow down a dog's rate of eating (it slows down my own dog from about 10 seconds to about 3–4 minutes to eat). The Green Feeder is sturdy and dishwasher safe. It can be used both for kibble and for wet food. It also comes in a mini size for smaller pups.
To see a slow feeder in action, check out Loki enjoying his.
This"maze bowl" by Outward Hound can go a long way to slowing down a dog's rate of eating, too. And it's fun to watch your dog's brain be engaged as they try to figure out how to get their food out.


The Toppl system by West Paw is a great brain-engaging feeding and treating puzzle for dogs. Not only is it made with their proprietary Zogoflex rubber (so it's durable, dishwasher safe, and latex-free), but it's also designed to allow you to combine two Toppls to increase the difficulty for your dog as they get smarter. See it in action in the video below.


It's Never Too Early or Too Late to Start
You can start feeding your dogs from an interactive toy or puzzle feeder any time. In fact, it's a great idea to start all new puppies off on these, as it can not only encourage them to eat more slowly, but it can also engage their brain more and help to wear down some of that "puppy energy"!