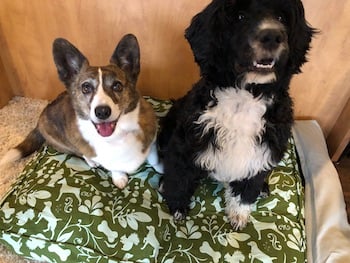 Here at the Preventive Vet office, we try our hardest to think of the environment all year long, not just on Earth Day. We have a robust recycling and compost program, and we always scoop our pets' poop – this country song parody is proof!
This year, we wanted to take our Earth Day festivities to the next level by expanding our eco-friendly habits to include upcycling and reusing things our office dogs use every day — their beds and toys!
Recycle Old Clothes into a Stylish Dog Bed
Bring new life to those clothes you KonMari'ed after watching The Joy of Tidying Up on Netflix! Molly Mutt makes dog bed duvets and inner stuffing sacks and protection layers that you fill with old clothing, linens, or pillows. Not only is this a great way to reuse clothing that's too beat up to donate, having your scent as a part of your dog's bed can comfort them and help them relax. What's great about being able to purchase each layer separately is that you can use just the duvet to recover an old dog bed that's been ripped or beaten up, or buy multiple duvet covers to rotate through and match your decor.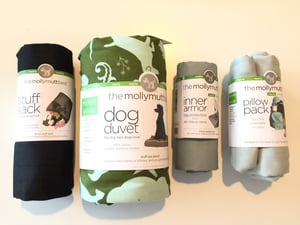 Full disclosure: Molly Mutt supplied us with the bed to try out but did not encourage nor compensate us for a review.
We diverted 20 pounds of old clothing and linens from landfill
As a team, we brought together some old clothes, pillows, and blankets to stuff the large size Molly Mutt Stuff Sack, Duvet Cover, plus the bolster Pillow Pack. We figured that having all of our scents in one communal dog bed would make all of our dogs feel comfortable and help build the bond with our coworkers' dogs.
The process was really easy, especially since we had two people to stuff the duvet. We packed the clothing in the mesh stuff sack, and then stuffed that into the inner waterproof armor bag before placing it inside the duvet cover. The fully-stuffed bed ended up being very heavy — we fit just over 20 pounds of clothing and linens inside the bed and pillow pack. The pillow pack is an accessory piece for the bed that gives your dog extra support and a head or back rest. You can adjust the weight of the bed based on how much and type of "filler" you use — our bed has lots of sweatshirt type material which adds to the weight. If your dog likes to nest and adjust their bedding with scratching and circling, you can put in less filler to make it more moldable.
The waterproof inner armor bag is a great idea for puppies who are still potty training and senior dogs with continence issues, since it keeps the inner stuffing of the bed nice and dry in case of accidents. It's also very simple to clean both the duvet cover and the stuff sack when needed - both are machine washable and simply need to be separated before being tossed in the wash.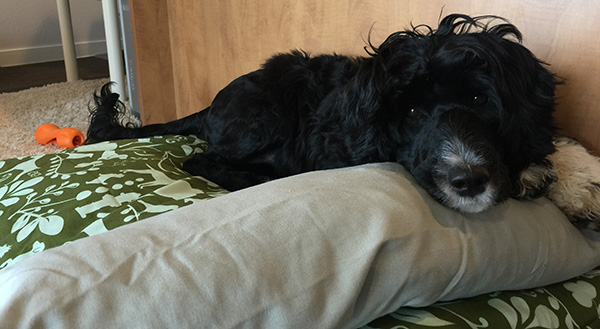 As you can see, the office dogs really enjoy it (as do we!). We're not sure if this is because it smells like us, or if it's because it's just so comfortable. The large size is big enough for a couple of our office dogs to snuggle up on together. Molly Mutt offers a variety of colors and patterns, so you're bound to find one or more that fit in with your decor. It makes a great colorful addition to the Preventive Vet office.
Do-It-Yourself Eco-Friendly Dog Toys
Speaking of recycling old clothing … you can also make your own toys with old clothing, linens or towels. Some ideas for you include making a snuffle mat from old blankets or shirts. Dogs love to sniff and search for kibble or treats in snuffle mats and it's great mental enrichment. Watch this video to see how to make your own snuffle mat:

Or cut up some shirts and add an old tennis ball to make a new-to-your-dog octopus toy as seen here:

Rip strips of denim out of old jeans and braid them together to make a dog tug toy as shown in this video:
There are lots of ways to recycle old clothes and other items into things your dog can enjoy again. Let us know what dog supplies or toys you've made with recycled items in the comments below!

*Learn about Amazon links and Preventive Vet recommended products