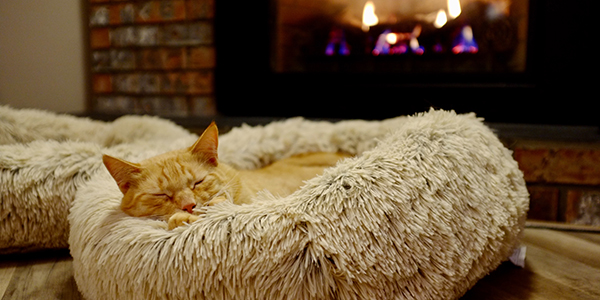 Brr....How Heating Your Home Can Harm Your Cats
Summer is long over, fall is getting on and and winter is near, so now is the time of year that many people (understandably) start turning up the heat in their home. While we all want to be more comfortable as winter's chill approaches and sets in, it's important to recognize that turning up the thermostat or lighting the wood stove can have an impact on your cat's breathing, too.

Central heating systems can circulate and recirculate dust, dander, and other respiratory irritants, especially when we first turn them on after a long, hot summer. Similarly, wood/pellet stoves and fireplaces create smoke and other respiratory irritants. And all of these common means of home heating will also dry out the air within the home. Whether or not your cat has feline allergic bronchitis (more commonly called "FAB" or "kitty asthma"), all of these factors can have a direct irritating effect on your cats' breathing system. And, if they do have FAB (which they may have and haven't yet been diagnosed with it), the simple act of heating your home can cause a significant enough flare in their symptoms to necessitate a trip to your veterinarian, or even the Animal ER.
Read More