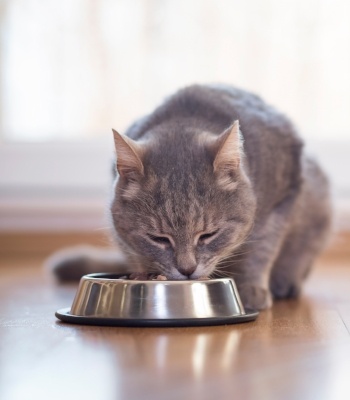 Feeding cats is easy, right? Just grab a cat bowl, pour in some kibble, refill as bowl gets low, and you're done. Right? Well, umm... not really.
Not all "cat bowls" are created equally, nor are all cats created equally. Two things are (almost) universal though: The first is that "free feeding" a cat in the manner described above is a pretty sure recipe for obesity, "scarf-and-barf," urinary obstruction, and a host of other problems for your cat. And second is that most cats are natural-born hunters, and they LOVE to work for and play with their food! And you can use that to your (and their) advantage to help provide environmental enrichment and prevent a whole lot of problems.
As a general rule, meal feeding is a far better way to feed your cat and it's also a good idea to have a good portion of their calories come from a high-quality, high-protein/low-carb wet food diet. But those are topics for another time. This article will help you figure out what to feed (and water) your cat from; i.e., the types of bowls (or even non-bowls) that will be best for your cat, regardless of what you're feeding them, or how often you're doing so. And there's also an easy bonus trick for how to quickly, inexpensively, and effectively disinfect your cat's bowls included at the end.
Read More