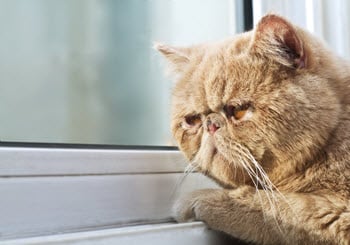 It can be extremely challenging to know when cats are in pain. Sure, sometimes it's quite obvious. You know your cat is in pain when you see a noticeable limp, large cut, or observe an accident. But other times your cat's signs of pain can be far more subtle. It's at these times that people often need guidance on what to look for to know if their cat is in pain.
Signs That Could Indicate Pain in Cats
As a general rule, most cats do an excellent (though detrimental) job of hiding their pain. Fortunately, there are lots of signs you can look for that indicate possible pain in your cat. Know what to look for so you can prevent your cat from suffering in silence.
Five Cat Pain Tips:
Cats often hide their pain so telltale signs can be subtle.
Cats in pain are more likely to bite, so be careful!
Behavior, breathing, heart rate, and even appearance can all change when your cat is in pain.
Always call your vet if you suspect your cat is in pain.
Never give your cat medication unless instructed to do so by your vet.
As with many other aspects of caring for your cat, these signs will be more obvious to you (even when they are subtle) if you have a good idea of your cat's "normal."
Read More