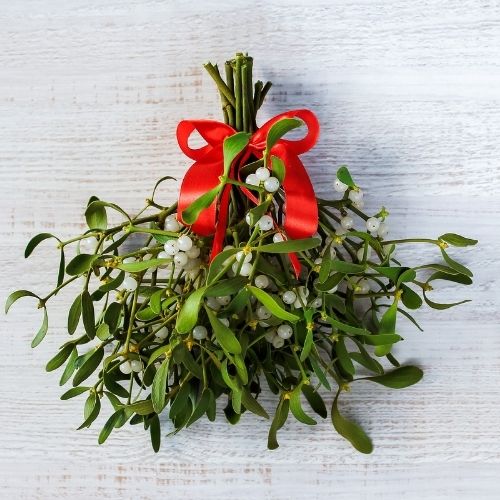 DAY 3: Mistletoe
Before you pucker up to kiss your sweetheart, be sure that bunch of mistletoe is well secured to the door jam. Though a strategically placed sprig of mistletoe may get you that Christmas "snog" you've been dreaming about all year, it may also land your dog or cat in the hospital if it falls to the ground or they find another way to get their paws on it.
Be aware
Even when eaten in small quantities, mistletoe can cause your pets excessive drooling and digestive upset. The latter of which may manifest as vomiting and diarrhea - which kinda ruins the thought of the previously mentioned snog I guess, doesn't it? But even bigger problems are in store for your pet if they ingest a larger quantity of this common Christmas decoration.
In these situations your pet may experience heart and/or neurologic problems, which could include abnormal heart rate and rhythm, decreased blood pressure, and a staggered walk. If left untreated, these signs can progress to collapse, seizures, coma, and even death. Now I've really ruined the thought of the snog, haven't I? I'm sorry, truly, I am... but you really should be aware of this.
If your pet has ingested any quantity of mistletoe...
...you should seek immediate veterinary advice. You can do so from your regular veterinarian, the local
Animal ER
, or from a dedicated
animal poison control hotline
. Though severe toxicity from mistletoe is uncommon, many factors will influence the degree of toxicity your pet will experience should they be unfortunate enough to ingest it. And as with all potential or known toxicities, you should not delay in seeking professional veterinary advice. The sooner appropriate actions are taken, the greater the chances that a better outcome will be realized.
Preventing mistletoe toxicity
If you hang mistletoe in your home, be sure it's well secured.
Take the berries off of any mistletoe you hang in your home.
Be careful when putting up (and taking down) your holiday decorations; do not leave the mistletoe laying around where your pets can get to it.
Read More