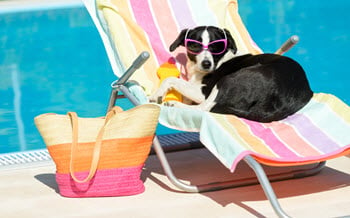 Come June, who among you isn't ready for the sunshine, BBQs, fireworks, trips to the river, lake, beach, and all the other joys that summer brings?
Believe it or not, there is one group that likely isn't ready…
your pets!
With a few simple steps you can help prepare your pets and keep them safe this summer. This article will serve as an overview of the summer hazards that commonly sicken, injure, and kill cats and dogs this time of year. Awareness is such an important part of prevention. So please, give this article a good read and be sure to share it with your pet-loving friends, family, neighbors, and co-workers. Here's to a safe and wonderful summer for all – human and pet, alike!
Summer Pet Safety Tips:
Summer carries dangers from heat, water, toxins, and an increase in injuries.
Always consider your pet's safety and comfort.
Sometimes it's better to leave your pet safe in the home, rather than exposed to danger.
HEAT
Though that beautiful glowing orb in the sky improves our collective mood and helps to sustain life on our planet, it can lead to a few significant problems for our beloved pets, too.
Read More