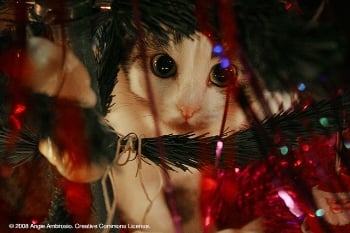 DAY 1: Tinsel
Cats and tinsel can be an expensive combination, and it can prove fatal, too!
Tinsel is often a very attractive toy for cats. After all, its shiny, it dangles, and it's something new in their environment. Few cats can pass it up – and even fewer can "pass it out."
When cats play with tinsel, they often end up swallowing some or getting some wrapped around their tongue, and this is when their nightmare (and yours) will begin. Fortunately, with awareness and some simple preventive steps, this is a common pet emergency that you can easily avoid. Read on to learn how...
Read More