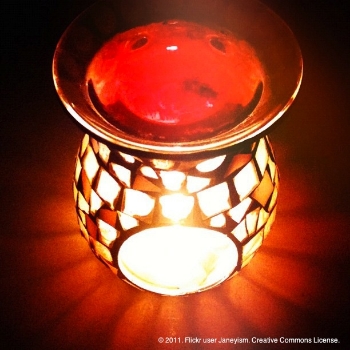 DAY 10: Liquid Potpourri
Some of the nicest things about the holidays are the smells, wouldn't you agree? Whether it's the smell of a fresh cut Christmas tree, cookies baking in the oven, or a crackling wood fire – the smells make this time of year is so enjoyable.
Liquid potpourri is a substance that can create or help to mimic some of those wonderful holiday smells. And while these oily liquids can fill a house with a sensory overload of wonderful aromas without all the 'hassle' of baking cookies, lighting a fire, or cutting down a pine tree, they also pose a very real, and potentially very significant, hazard to your pets - especially your cats.
Be aware

Liquid potpourris typically contain two substances that can be toxic to your pets - essential oils and cationic detergents. Whether or not they're specifically listed on the label, they're almost always present, albeit in varying concentrations.

While the essential oil component of the liquid potpourris can cause problems for your pets (depending on the type and concentration of the essential oil), typically it's the cationic detergents that cause the bigger problems.

The cationic detergents present in liquid potpourri can cause severe ulceration and chemical burns to the surfaces within your pet's mouth and along their digestive tract. They can cause similar problems if they come into contact with their skin or their eyes, too.

As you might imagine, burns within your pet's mouth, or anywhere along their digestive tract, can be extremely painful. This pain often causes affected pets to go off their food, and this, in turn, can lead to a whole other set of problems. Of particular concern, especially if your cat is overweight or obese, is the development of hepatic lipidosis.

If the concentration of the detergents within the potpourri is high enough, and the burns sustained severe enough, your pet could wind up with a perforated ulcer, or hole, in their esophagus. This carries a very poor prognosis for survival, sometimes even in spite of appropriate and timely treatment.
Read More