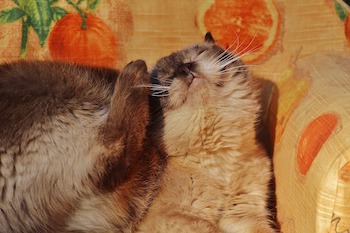 If you have pets, you've probably experienced fleas or heard horror stories from others who have. Fleas are miserable pests that can wreak havoc on a household.
Understanding how to prevent fleas and how to treat your pets if they become infested are the keys to this nuisance. Fortunately, there are several easy ways to help prevent your pet from bringing fleas home plus some good treatments available if the worst does happen.
Prevention Is Best
Flea prevention is the easiest and most cost-effective way to deal with fleas - the costs and inconvenience of dealing with an infestation once it's established are far worse than those associated with preventing such an infestation from taking hold in the first place. As with most things… prevention is easier (and less expensive) than treatment.
Tips
For flea prevention to be effective, ALL pets in the household need to be on a monthly program -- even indoor-only cats!
As with most things… prevention is easier (and cheaper) than treatment.
Vacuum, vacuum, vacuum!
Why Flea Prevention Medication Should Be Year Round
Generally pets should be on flea prevention throughout the year. You might have heard that you don't need to continue flea prevention when it's cold outside, but I highly discourage this. There are just too many ways for fleas to take hold and keep themselves going.

For example, one stage of the flea life cycle is the pupal stage, a lifestage that is protected from the environment by a cocoon. Pupal-stage fleas can remain dormant for several weeks while waiting for more favorable conditions. Also, in some areas, when the weather gets cooler, rodents start trying to seek shelter in homes. Those mice and rats could easily bring plenty of fleas into your home.

Read More