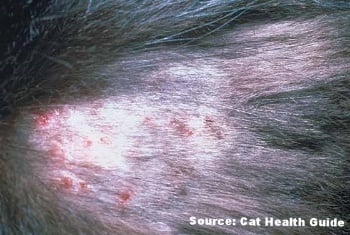 What are these bumps on my cat's back?


Though it happens throughout the year, now is the time when we vets start seeing a lot more cats with "bumpy backs." These small bumps and scabs, also common around a cat's neck and face, are what's called "miliary dermatitis."

This inflammatory process of the skin is typically accompanied by itchiness, which cats often express by scratching and/or biting at their skin (although you may not actually see them doing so). Until proven otherwise, miliary dermatitis in cats is an indication of the presence of, and potentially allergic reaction to, fleas.

Because miliary dermatitis is an uncomfortable condition for cats, and because it most often indicates a flea problem, this is a finding that should prompt a visit to your veterinarian. To learn more about fleas read this article about fleas and their treatment and prevention on cats.
Read More