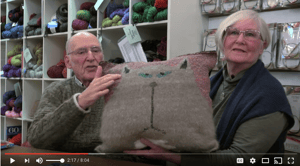 Some cat owners have made peace with the never-ending strands of cat hair floating into every pot on the stove, creeping into every closed drawer, and strewn about the car they have never been in without a carrier. Others have decided to be more productive with this nuisance of an accessory, by giving it a purpose and turning it into a craft.
"Mittens from Kittens" is a delightful 8–minute documentary about a woman with a talent for felting cat hair and spinning it into wool. For some, this artistry may seem a bit quirky — but for others, it's a beautiful way to honor beloved animal companions, and keep them close fur-ever. And for the romantics out there, there's even a love story.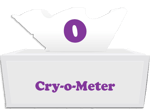 Zero tears were shed while watching this*
Interested in getting knitty with your kitty?
First, make sure you know the proper way to brush your cat. Next, check out some blogs, videos, and books dedicated to crafting with cat fur. Then, it's time to collect the fur and let your imagination go wild. And if you need more inspiration, head over to @rojiman's Instagram.
*Cry-o-Meter ratings are measured based on the amount of actual tears shed while watching. I also happen to be a big crier.
*Learn about Amazon links and Preventive Vet recommended products