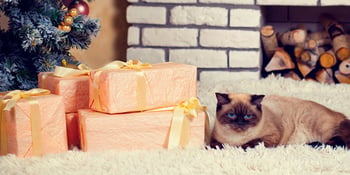 Giving the purr-fect gift shouldn't be limited to the holidays, but since they're just around the corner, we couldn't think of a better reason to sniff out the best toys for cats and their humans.
We've searched high and low for unique and fun Christmas and Hanukkah gifts for kitties and the humans that love them. While a feather teaser or wand can be fun interactive toys that help to create a bond between you and your cat, this top ten list was put together to satisfy the most finicky feline and their high-brow human.
For the Cat-Loving Family That Enjoys Game Night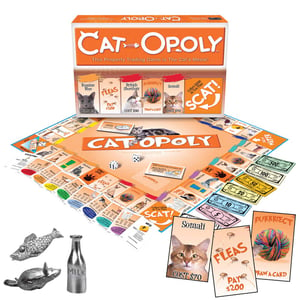 Why buy Boardwalk when you can fetch your favorite feline? This cat version of the iconic board game will have you collecting litter boxes and trading them for fish bones. It's a ton of fun to play with your feline loving family and friends. And there's a good chance your curious kitty will get involved too!
---
For the Cat That Never Stops Playing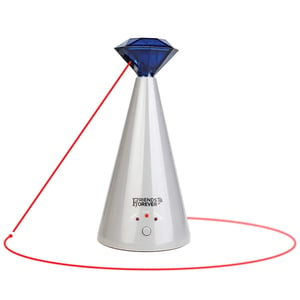 Interactive Laser Cat Toy by Friends Forever
If your cat is home alone all day while you're at work, give them the gift of playtime whenever they want! Most felines are utterly fascinated by the elusive laser beam. This interactive laser toy will keep your cat entertained for hours, even when you're not home.
---
For the New Cat Owner
101 Essential Tips — Cat Health & Safety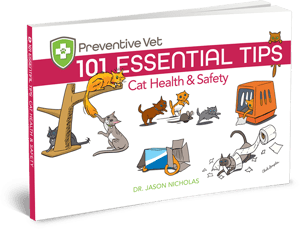 New cat owner on your list? This 101 Essential Tips book gives valuable advice that will help them be the best cat owner they can be, regardless of their level of experience with raising and caring for cats. Topics include how to cat-proof your home and how to avoid common poisonings, traumas, and a host of other medical conditions and emergencies.
---
For the Cat That Loves Their "Me" Time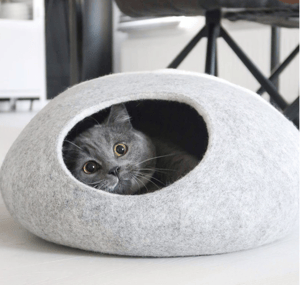 The Cat Cave Bed by Tuft & Paw
We are big fans of Tuft & Paw. Their products are designed to blend into your home, not stick out against your decor. This cave-like cat bed is a peaceful retreat that creates a secure and safe place to retire. Hand-crafted with 100% wool, a hand-stitched small entrance window is the perfect size for your cat to get in and out with a sense of total seclusion.
---
For the Cat That Loves to Climb
The Milo Cat Tree by Tuft & Paw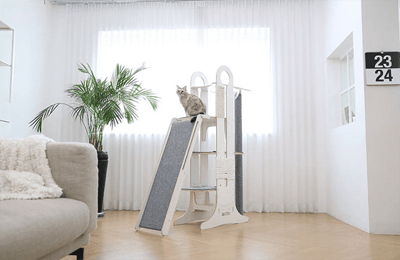 Another favorite pick from Tuft & Paw that blends right into your existing decor, this palatial palace for cats is a must have for families that put their feline first! Some may call this a tree, but we like to think of it as a condo. With two covered tree houses, multiple perches and two slide-like scratching posts, this structure helps satisfy your cats need to climb and scratch.
---
For the Cat with Finicky Bathroom Habits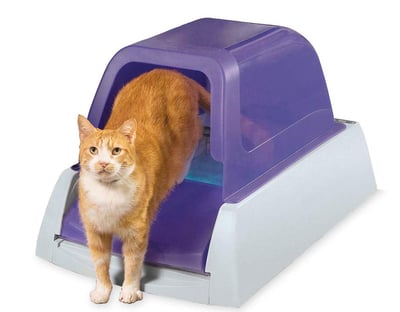 Scoopfree Ultra Automatic Self Cleaning Hooded Cat Litter Box by PetSafe
Let's face it — scooping the litter box is nobody's favorite chore. But maintaining a clean litter box means your cat is more likely to use it and less likely to have accidents around the house. This automatic self-cleaning litter box helps you scoop less often* and encourages good bathroom habits — even when you're not home.
*It's important to keep an eye on your cat's poop for potential health concerns*
---
For the Cat Person That Hates Cleaning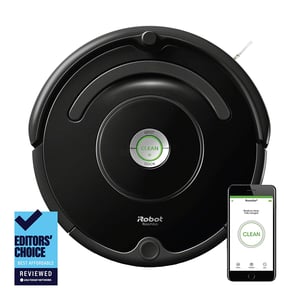 If you've got someone on your list that's tired of sweeping or vacuuming up unwanted cat hair, show them how much you care by gifting a robotic vacuum that does the work for them! This vacuum works on carpet and hard floors and runs for up to 90 minutes before docking itself to charge. Plus, their cat might enjoy riding it around the house as they survey their domain!
---
For the Cat That Loves to Play Hide and Seek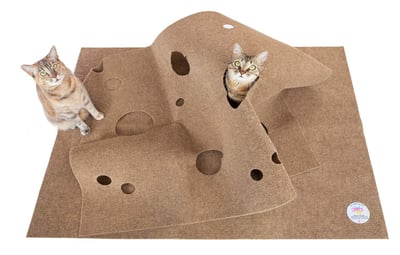 If your kitty loves to play hide and seek, this interactive scratching snuggle rug is guaranteed to provide hours of fun for both of you! The Ripple Rug activity center can be configured many ways and can be used to hide treats inside. Bonus: It's insulated and has a non-slip rubber bottom, making it a great place for a cat nap!
---
For the Cat That Wants Physical and Mental Stimulation
The Exercise Wheel from One Fast Cat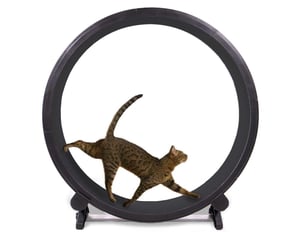 Let's face it … cats get bored. And once they get bored, it can lead to bad behavior, depression, and a bunch of other problems. Enter the One Fast Cat Exercise Wheel! This exercise wheel helps your cat burn off excess energy (and calories) and is sure to keep them entertained! With a little training and lots of positive praise and treats, your cat will be reaping the physical and mental benefits, leading to a more calmand relaxed feline.
---
For the Cat Lover That Loves Music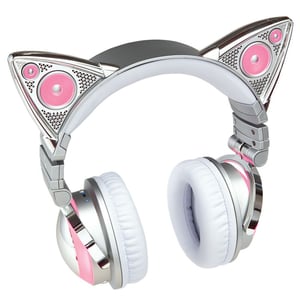 Limited Edition Ariana Grande Wireless Cat Ear Headphones by Brookstone
For the music and cat enthusiasts, these cat ear headphones endorsed by Ariana Grande will make quite the statement! These wireless headphones also have external speakers so they can jam out with their friends — both human and feline!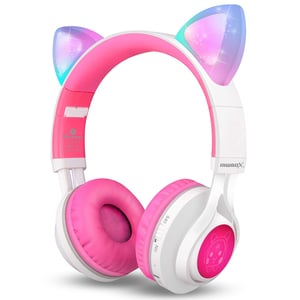 Bluetooth Cat Ear Headphones by Riwbox
If you want some fun cat headphones that are perfect for kids (or yourself), check out these Bluetooth Cat Ear Headphones from Riwbox. Music & lights will have any kid feeling like a unicorn kitty cat while they rock out to the beat.
---
For the Cat That Wants More Than Just a Bowl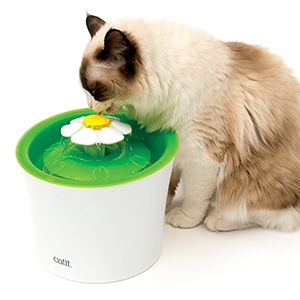 Flower Water Fountain by Catit
You won't find your cat clawing at the faucet anymore with the Catit Flower Fountain in your home! This circulating filtration system will keep the most finicky feline's water fresh with three different flow settings. Their curiosity alone will keep them constantly hydrated.
---
For the Cat That Wants to Hunt for Their Food
Indoor Hunting Cat Feeder by Doc & Phoebe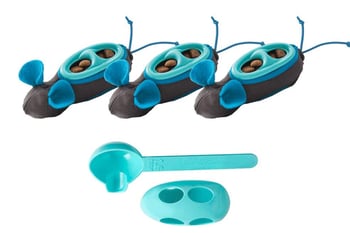 Let the hunt begin! Cats by nature love to prowl for prey and what better way to give your indoor furball the experience, than with this interactive feeder by Doc & Phoebe.
---
For the Cat That Loves to Lounge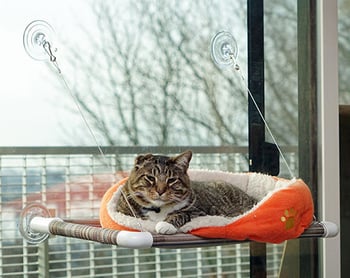 Best Cat Perch by Kitty Cot
If cats could speak, this is exactly what they would ask for. This cat perch by Kitty Cot not only gets your feline off the ground, but gives them a wonderful view of birds and squirrels outdoors. The suction cups easily attach to any window. Made in the U.S.A and approved by the Humane Society.
---
For the Cat That Needs Nature
Portable Cat Tent & Tunnel by Outdoor Jack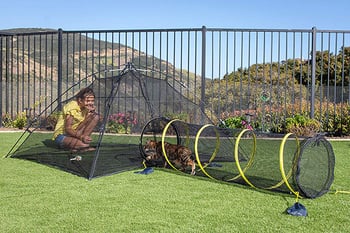 Looking to give your indoor cat a taste of nature, look no further than Outdoor Jack's portable tent and tunnel. Perfect for any outside space, keeping your kitty safe from any predators.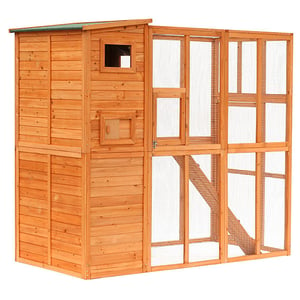 Wooden Outdoor Catio Enclosure by PawHut
Does your cat want to be the king or queen of a castle? Check out this multi-level wooden catio by Pawhut. This fully enclosed playpen is a perfect addition to any backyard or patio and will allow the whole family to enjoy the outdoors without fear of predators or your cat getting away.
---